How does this message make you feel? A study of user perspectives on software update/warning message design
Human-centric Computing and Information Sciences
2015
5:36
Received: 29 May 2015
Accepted: 11 November 2015
Published: 15 December 2015
Abstract
Software update messages are commonly used to inform users about software updates, recent bug fixes, and various system vulnerabilities, and to suggest recommended actions (e.g., updating software). While various design features (e.g., update options, message layout, update message presentation) of these messages can influence the actions taken by users, no prior study can be found that investigated users opinions regarding various design alternatives. To address this void, this paper focuses on identifying software update message design features (e.g., layout, color, content) that may affect users positively or negatively. Toward that, we conducted a user study where users are shown 13 software update messages along with 1 virus warning message. We collect responses from 155 users through an online survey. Participants gave a total of 809 positive comments and 866 negative comments along with ranking of each image in terms of perceived importance, noticeability, annoyance and confusion. As many of the comments are repetitive and often contain multiple themes, we manually analyzed and performed a bottom-up, inductive coding to identify and refine the underlying themes. Over multiple iterations, positive comments were grouped into 52 categories which were subsequently grouped under four themes. Similarly, negative comments were first grouped into 38 categories which were subsequently grouped under four themes. Based on our analysis, we present the list of design features that are found to be highly correlated to confusion, annoyance, noticeability, and importance, either positively or negatively.
Keywords
Update message designAffective-cognitive designUser opinionsUser experiences
Background
Keeping computing systems up-to-date with the latest software and security updates [1–4] is one of the most effective ways to prevent security attacks that often exploit known software vulnerabilities [5–7]. Unfortunately, as software companies are constantly trying to identify various security vulnerabilities and release fixes promptly, users often ignore recommended updates, exposing their systems to potential cyber-attack. As eliminating human from the system maintenance loop is not an option and/or desirable in many cases, it is critical to understand the underlying reasons behind the widespread reluctance of users in updating their systems. Once identified, design choices can be made when making software update messages to help them effectively communicate the risk of not updating and convince users to take the necessary actions voluntarily.
While recent efforts can be found that studied the complexity of software update message content and pointed out that users are often confused by update messages [8], we argue that message content is only one aspect of software update/warning message design and there are other design factors (e.g., layout, placement, color) that may also significantly affect user's behavior which have not been studied. Inspired by prior efforts [3, 4] and to address this void, this paper aims to identify design features that may significantly influence the level of confusion, annoyance, noticeability, and perceived importance experienced by users once a software update message is delivered. Our analysis considers several variables which are all operationally defined in our study using survey instruments and self-reported ratings, as explained in "Definition of variables".
This report presents a study of 155 users using real software update and warning messages. Each participant was shown 14 images in random order and asked to rate on a Likert scale how important, annoying, confusing, and noticeable he/she considered each message, as well as what they "liked" and "didn't like" about each message in an open-ended format. The messages shown to participants varied in terms of software type/brand, message complexity, font size, background/feature color, button design, and offered features.
Our analysis centers on a bottom-up inductive coding to identify the underlying themes across comments left by participants and qualitative analysis of ratings left by participants for each message. Over multiple iterations, 809 positive comments were initially grouped into 52 codes. Similarly, 866 negative comments were grouped into 38 codes. After further analysis, we identified that comments (both positive and negative) fell under one of the following themes: (1) design/layout, (2) message content, and (3) update mechanism. In addition to these three themes, users also left comments expressing emotions toward updates and software brand in general, which we discuss separately in "General affective-cognitive considerations by participants".
To summarize, in this paper we make the following key contributions:
1.

We analyze and present the composition of themes derived from the coding analysis along with patterns noticed in the comments.

2.

To identify the design features that are correlated to message noticeability, perceived importance, level of annoyance, and confusion caused by the message, we analyze the relationship between comment frequency and average participant ratings for each message.

3.

We present evidence of the effect of prior experience on current behavior in response to software update and warning messages.
The rest of the paper is organized as follows: "Related work" describes prior research that is related to our work. "Methods" explains the design of our data collection policy and mechanism used in this paper. "Results" presents our Results and relate them back to our paper's central argument. "Limitations" discuss the limitations of our study along with future directions. Finally, "Conclusion" concludes the paper.
Related work
Our work is motivated by prior work from other domains such as marketing research and communication theory that investigated the effect of various message design features on effective risk communication for consumer products such as poisons, cigarettes, fire extinguishers, cars, and industrial equipment [9–16]. Specifically, prior investigations looked into the impact of font size, contrasting colors, pictures, and audio on salience and noticeability of warning messages [11, 16–19]. The effect of word choice, layout, and placement on message effectiveness and level of perceived hazard have also been studied [15, 20, 21]. Human factors such as personal attitudes, beliefs, past experience, and demographic variables such as age, gender, language, and ethnicity are all shown to impact the effectiveness of warning message [8, 19, 21–23].
While a large volume of research exists that investigates the problem of designing effective warning messages in other domains, only a limited number of prior efforts can be found in the domain of software that primarily focus on analyzing the understandability of messages. Among these, one recent work investigated the effect of education level on understandability of computer warning messages, and reported that, on average, a user needs to have at least 10 years of education to understand the presented messages [8]. Another recent work reported that only 17 % paid attention to Android permission settings while installing new mobile application software, and only 3 % showed full comprehension of the messages [24], demonstrating widespread lack of comprehension and attention. Another work studied the affective-cognitive and linguistic aspects of software warning and security messages, and pointed out that the linguistic complexity of messages is often related to the effect of attention, attitudes and beliefs [25]. All of these cases point to deficiencies in the update message design and content since users should be able to easily understand these important messages.
Another team found large differences between actual changes made by updates and the changes the participants thought were being made [4]. We argue that this failure to grab attention and effectively communicate the intended information falls on the software messages and it is important to identify why users do not pay attention to and do not understand the messages.
These issues have prompted some to try and fix or avoid this disconnect between users and software companies. Several have looked into effective notification strategies [3, 26, 27], but these studies mostly focus on how to manage the notification system and not on the design of the message itself. An applicable lesson from these projects is that past experiences are very important to decision making when it comes to software updates [3], as they find that bad experiences with a software's updates will make users less likely to apply updates for that software in the future.
Though proper message delivery is important to adherence, the design and communication potential of those messages is also important. A notable redesign study altered smartphone application permission warnings by including real-life mobile data security risks (i.e., what information from the phone will be available based on the apps' permissions) to make users more aware of privacy concerns [28]. The researchers found that the information made users pay more attention to these issues when installing apps, showing how the design of messages can be used to better communicate important information.
Finally, the authors of this paper have previously published a study examining opinions of users about software updates from specific and different software packages [29]. That investigation found that hesitation to apply updates and confusion with messages was common among the sampled users. Additionally, annoyance and confusion with messages proved a predictor for hesitation to apply updates for some of the softwares tested. Finally, when comparing quantitative data gathered while users viewed the same images as in this study, that analysis found a correlation between how annoying and confusing users rated each message as well a correlation between importance and noticeability. This prior publication is of a different focus than this work and uses different analysis methods to make it's argument (i.e., quantiative analysis). Data for both studies were collected together using the same survey, but this paper analyzes data not reported on in the prior work.
While there have been some recent study into the comprehension of security warning and software update messages to some extent, the authors have found no study that specifically looked into the effect of message design features (e.g., layout, font, button designs) on the level of confusion, annoyance, noticeability, and perceived importance experienced by users once a message is delivered, which is the main focus of our study.
Methods
A multi-formatted survey was used to gather the opinions of participants about current software update and warning messages. Participants were shown a series of images, each a screen-shot of an update or warning message. While viewing the image, they were asked to rate their perception of four qualities: importance, annoyance, confusion, and noticeability. The format of the questions asked to respondents can be seen in Table
1
. Responses to these questions were given on a 7-point Likert scale. Along with the scaled questions, participants were invited to describe, in an open-answer format what they "liked" and "didn't like" about the message in the image.
Table 1
Qualitative questions shown with update images
Question
How important is the message? (rate from 1 = not at all, to 7 = very)
How annoying is the message? (rate from 1 = not at all, to 7 = very)
How confusing is the message? (rate from 1 = not at all, to 7 = very)
How noticeable is the message? (rate from 1 = not at all, to 7 = very)
The images used included messages from well-known software companies such as Microsoft and Apple, and also included messages from software companies that are less well-known or popular (e.g., VLC media player). The samples of messages used contains 13 update messages and 1 virus warning message. Although the virus warning message is not an update message, it shares many similar characteristics with update messages: similar size and layout, explicitly mentioning immediate security threats, and asking users to take certain actions. Thus, we argue it's inclusion in this study is appropriate since the goal is to identify user opinions about software messages that attempt to motivate the user to action, and both types of message (i.e., update and virus warning) fall into this category. Images 1–6 can be seen in Fig.
1
, Images 7–12 can be seen in Fig.
2
, and Images 13–14 can be seen in Fig.
3
.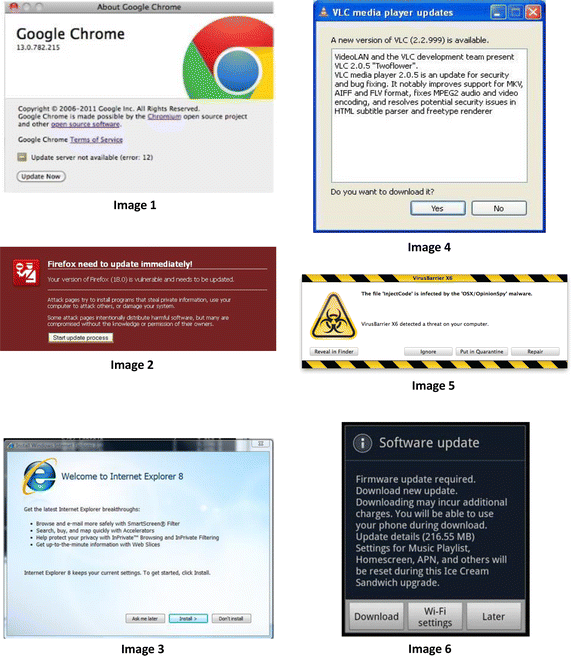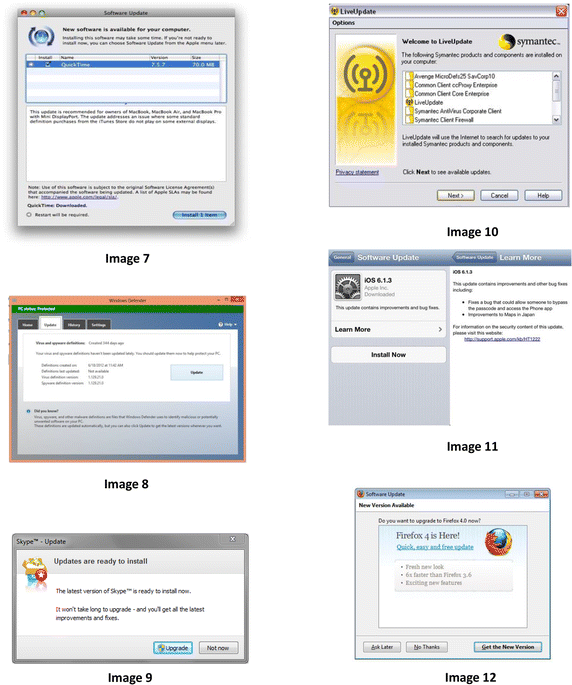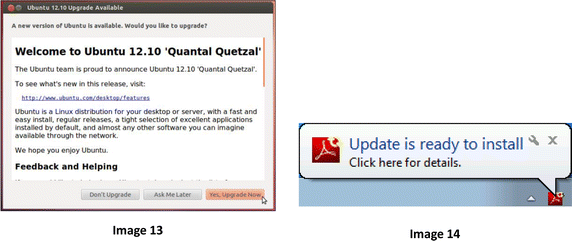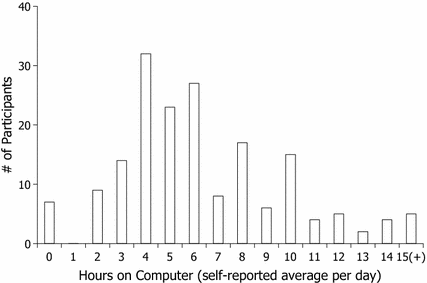 Sampling methodology
The flyer advertising the survey was distributed through university student and community email lists. We gathered 172 sets of responses during a two day period. Approximately 155 of these were complete and were used in our analysis. The study was approved by the IRB and each participant received a $15 (USD) Amazon gift card for participation. To facilitate taking breaks while taking the survey, participants were required to create an account before beginning the survey. This allowed participants to leave in the middle of the survey and log back in later at their convenience. Respondents also provided email addresses for the purpose of compensation. Participation in the survey was completely voluntary.
Definition of variables
Our analysis considers emotions elicited by update/warning messages, which are operationally defined in our study using self-reported ratings that reflect each variable. Emotions evoked by specific messages (i.e., annoyance, confusion, importance, and noticeability) are defined using the questions in Table
1
. In this case, the emotion mentioned in the question is the emotion that question is used to measure. We also analyze the update messages included in the study on several aspects. Broadly, they are design and layout, content, and delivery mechanism. Codes were developed to describe each of these categories for every message. Those codes are described in more detail in "
Results
".
Table 2
Average ratings for each image
| Image # | Important | Annoying | Confusing | Noticeable |
| --- | --- | --- | --- | --- |
| 01 | 3.7 | 3.5 | 3.4 | 4.6 |
| 02 | 5.4 | 4.3 | 3.1 | 6.0 |
| 03 | 3.6 | 3.8 | 2.5 | 4.9 |
| 04 | 3.6 | 4.5 | 4.2 | 4.1 |
| 05 | 5.9 | 4.1 | 3.6 | 6.3 |
| 06 | 4.3 | 4.4 | 4.0 | 4.5 |
| 07 | 3.6 | 4.3 | 3.0 | 4.8 |
| 08 | 4.6 | 3.9 | 3.5 | 4.8 |
| 09 | 3.6 | 3.4 | 2.3 | 4.8 |
| 10 | 3.9 | 4.2 | 4.1 | 4.9 |
| 11 | 4.8 | 2.8 | 2.2 | 4.8 |
| 12 | 3.8 | 3.3 | 2.3 | 5.0 |
| 13 | 3.5 | 4.0 | 3.6 | 4.7 |
| 14 | 3.0 | 3.8 | 2.2 | 3.4 |
| Average | 4.1 | 3.9 | 3.1 | 4.8 |
Results
A total of 155 adults participated in the study. All were university students and staff recruited using email-lists that distributed our flyer to those populations. The sample population has a median age of 21 years. The average age is 22 years with a standard deviation of 5.4. 60 % of the respondents is female and 40 % is male. We asked participants to report their average hours-per-day on a computer. Based on a scale from 0 to 24 h, the average response was 6.4 with a standard deviation of 3.6. The median response was 6 h per day. Figure 4 shows the full distribution of participants' responses to this question.
As described in "
Methods
", participants in our study were shown 14 images in series and asked to rate how important, annoying, confusing, and noticeable they thought each message was. The average ranking of each image in these four categories are listed in Table
2
.
Table 3
Sample positive comments regarding various aspects of design/layout
| Response | Image # |
| --- | --- |
| The message box isn't overly crowded, and it's nice and colorful | 01 |
| It looks like it comes from a trusted source | 01 |
| No harsh colors, seems trustworthy | 03 |
| It looks really important with the red | 02 |
| It's red, so it does make me pause to think that this is possibly important | 02 |
| Color, very specific, says keeps current settings, very positive | 03 |
| The update button is obvious. I like that they display the version number | 01 |
| Gives a simple option | 02 |
| Simple yes/no buttons | 04 |
| Easily recognizable logo | 01 |
| The icon, color and heading clearly convey its importance | 02 |
| The blue background makes it look nicer and calmer. It makes it less annoying | 03 |
| Was not blinking and distracting | 03 |
| It definitely looks as though immediate action is required. Catches the eye | 05 |
| Multiple options to quarantine, repair, reveal or bypass the finding | 05 |
| Simple and to the point. Definitely caught my attention and makes me want to do something about it | 05 |
| Since this is a risky situation, i like that they made it striking visually so that you can tell it's something dangerous and important | 05 |
| Symbol and yellow/black band gives clear indication this is important | 05 |
| The little sign which looks kind of like a hazmat issue is pretty neat and noticeable | 05 |
| The range of options given for responding to the message | 05 |
| Use of artwork to draw user in | 05 |
| I like the format and the font and how it is pretty clear. I like how it tells you how much space it will use | 06 |
| Cute icon, simple background. Little bit of text, but has some descriptive words in it. Something about the wording is very calming and reassuring, like somehow if I let the updater do its task, everything in life will be ok. Or at least, everything in Skype | 09 |
| Page is so simple, and a button for "learn more" is only two words, as opposed to a paragraph of the details | 11 |
Table 4
Frequency of comments regarding positive aspects of design/layout for all 14 sample messages
Code

Image #

1

2

3

4

5

6

7

8

9

10

11

12

13

14

Clean looking

5

2

2

1

1

1

5

3

2

Altering design (e.g., color, layout)

1

9

2

1

1

1

1

Looks trustworthy

3

2

1

1

2

1

Simple options

9

2

8

9

10

7

4

2

6

2

5

10

1

Attention grabbing

2

21

1

21

1

1

4

2

2

1

2

2

Use of logo/icon

5

2

1

2

4

3

1

1

1

Organization of information

2

1

1

1

1

Applealing to see

9

1

6

1

3

7

4

9

2

2

6

6

1

1

"More information" button/link

1

1

2

12

7

4

"Ask me later" option

8

3

2

3

2

9

9

1

"Don't install" option

4

3

1

2

3

2

4

9

9

Range of options given

8

2

1

3

6

Font

1

1

Big update button

8

Use of multiple tabs

2

Button design

5

2

2

1

Small window size

17

Total

40

45

39

14

58

30

16

35

25

28

38

38

43

37
To identify the design features that may explain the image rankings, participants were also invited to express what they liked and did not like about each message in an open-answer, comment format. To help identify the underlying design features that are correlated to message noticeability, perceived importance, level of annoyance, and confusion caused by the message, we first performed a bottom-up inductive coding to identify the underlying themes across comments left by users. We discuss the results of this coding and tie them to the qualitative rankings collected for each image to help identify design features preferred and disliked by participants. To help bring context to these findings, we also relate each to results from a prior analysis of different data collected in the same survey as the data analyzed here.
Limitations
Our study aims to uncover the limitations of current software update message designs and mechanisms. Though we have presented several key findings related to the user perception of software update and warning messages, we are unable to extrapolate our findings to the population in general. That said, our findings are well aligned with reported limitations of update messages in prior studies [3, 4, 24, 25, 28, 29]. Specifically, our study, like many before us focuses on a sample from a university population containing many students and staff. Since most of our participants are working towards or have at least a bachelor's degree, the findings here may not replicate for all other groups. It's very possible that perceptions of updates could be different based on education and/or computer proficency. Nonetheless, our sample was of active computer users whose opinions about updates are surely invaluable based on their regular experience with them. The findings presented in this report can serve as a starting point for further investigation into the design and delivery of software update and warning messages for the general population by prompting similar investigations that focus on other populations or message designs/types.
Conclusion
In this paper, we perform both quantitative and qualitative studies using existing software update messages to identify software update message design features (e.g., layout, color, content) that may affect users positively or negatively. By analyzing quantitative data and qualitative comments from 155 users, we identified multiple designs features that are highly correlated to messages being confusing, annoying, noticeable, and important. We also identified a general negative attitude associated with software warning and update messages, often due to negative past experience with specific software update. Though current messages do make mistakes and cause users negative emotions/decisions, our findings show that some messages are well designed and can be used, with human behavior theory in mind, to identify features that should be most effective at convincing users to update.
Declarations
Authors' contributions
MF and MK designed the study and prepared the necessary materials for execution. MF executed the study and collected data from participants. NN and MK manually analyzed the resulting data, developed descriptive codes, and refined those codes into the themes presented. MF and MK wrote and revised the resulting report presented in this research paper. All authors read and approved the final manuscript.
Acknowledgements
This work is supported by the National Science Foundation under Grant no. CNS-1343766 and GAAAN Fellowship no. P200A100141 and P200A130153. Any opinions, findings, or recommendations expressed in this material are those of the authors and do not necessarily reflect the views of the funding agencies.
Competing interests
The authors declare that they have no competing interests.
Open AccessThis article is distributed under the terms of the Creative Commons Attribution 4.0 International License (http://creativecommons.org/licenses/by/4.0/), which permits unrestricted use, distribution, and reproduction in any medium, provided you give appropriate credit to the original author(s) and the source, provide a link to the Creative Commons license, and indicate if changes were made.
Authors' Affiliations
(1)
Computer Science and Engineering Department, University of Connecticut, Storrs, USA