Human-centric Computing and Information Sciences welcomes submissions to the thematic series on ' Data Driven Artificial Intelligence for Human-centric Computing '.
Human-centric computing uses different types of electronic data collection sensors to manage, analyze and integrate assets and resources efficiently to provide better services and communication to humans. Data collected from citizens, assets and devices are processed and analyzed to manage and monitor transportation systems, shopping modes, living houses, information systems and other personal services. Human-centric computing is the wave of the future, which not only helps bring us convenience but also presents new challenges of processing and analyzing massive data. Hence, data processing is an urgent problem that needs to be solved in the area human-centric computing. Traditional data processing mechanisms are less efficient when faced with large amounts of data in human-centric computing. Currently, artificial intelligence (AI) is a new technology for simulating, extending and expanding human intelligence. With the emergence of big data and the gradual maturity of deep learning technologies, AI is gradually becoming a popular solution for cutting-edge technologies. Hence, the data driven artificial intelligence is required to perform data processing and analyzing in human-centric computing.
Topics of interest include but are not limited to:
AI driven data auditing for human-centric computing
AI driven data access control for human-centric computing
AI driven key management and distribution scheme
AI driven data sharing and data storage scheme for human-centric computing
AI driven information retrieval scheme for human-centric computing
AI in medicine and autonomous vehicles in human-centric computing
Machine learning and data mining for human-centric computing
Computer vision for human-centric computing
Social network exploration for human-centric computing
Human-machine interface for human-centric computing
AI driven pervasive computing for human-centric computing
AI driven secure communication in human-centric computing
AI driven security and privacy issues in human-centric computing
Submission instructions
Before submitting your manuscript, please ensure you have carefully read the submission guidelines for Human-centric Computing and Information Sciences. The complete manuscript should be submitted through the Human-centric Computing and Information Sciences submission system. To ensure that you submit to the correct thematic series please select the appropriate special issue in the drop-down menu upon submission (see screenshot below). All submissions will undergo rigorous peer review and accepted articles will be published within the journal as a collection.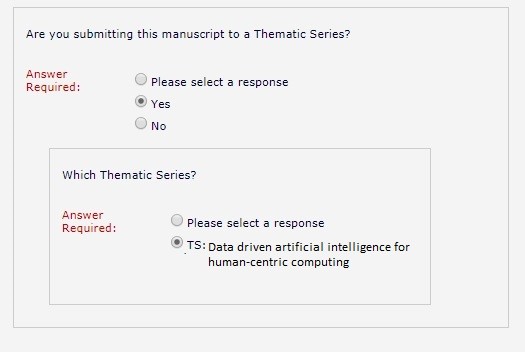 Deadline for submissions: 30 June 2019

Lead Guest Editor
Han-Chieh Chao, National Dong Hwa University, Taiwan

Guest Editor

Laurence T. Yang, St Francis Xavier University, Canada
Odej Kao, Berlin University of Technology, Germany
Chin-Feng Lai, National Cheng Kung University, Taiwan
Submissions will also benefit from the usual advantages of open access publication:
Rapid publication: Online submission, electronic peer review and production make the process of publishing your article simple and efficient.
High visibility and international readership in your field: Open access publication ensures high visibility and maximum exposure for your work - anyone with online access can read your article.
No space constraints: Publishing online means unlimited space for figures, extensive data and video footage.
Authors retain copyright, licensing the article under a Creative Commons license: articles can be freely redistributed and reused as long as the article is correctly attributed.