Assessment of combined textural and morphological features for diagnosis of breast masses in ultrasound
Kadayanallur Mahadevan Prabusankarlal

1, 2

Email author

,

Palanisamy Thirumoorthy

3 and

Radhakrishnan Manavalan

4
Human-centric Computing and Information Sciences
2015
5:12
Received: 9 September 2014
Accepted: 22 March 2015
Published: 30 April 2015
Abstract
The objective of this study is to assess the combined performance of textural and morphological features for the detection and diagnosis of breast masses in ultrasound images. We have extracted a total of forty four features using textural and morphological techniques. Support vector machine (SVM) classifier is used to discriminate the tumors into benign or malignant. The performance of individual as well as combined features are assessed using accuracy(Ac), sensitivity(Se), specificity(Sp), Matthews correlation coefficient(MCC) and area AZ under receiver operating characteristics curve. The individual features produced classification accuracy in the range of 61.66% and 90.83% and when features from each category are combined, the accuracy is improved in the range of 79.16% and 95.83%. Moreover, the combination of gray level co-occurrence matrix (GLCM) and ratio of perimeters (P ratio ) presented highest performance among all feature combinations (Ac 95.85%, Se 96%, Sp 91.46%, MCC 0.9146 and AZ 0.9444).The results indicated that the discrimination performance of a computer aided breast cancer diagnosis system increases when textural and morphological features are combined.

Keywords
Breast ultrasound Feature extraction Textural features Morphological features Machine learning SVM classifier
Introduction
The most frequently diagnosed cancer all over the world is the Breast cancer, accounting for 23% (1.38 million) of total cancer cases. It is responsible for about 14% (458,400) of the total cancer deaths in 2008, as leading cause of mortality in females. Almost half of the breast cancer cases and 60% of the mortality present in economically developing countries such as India. The availability of early detection facilities in developed countries contribute to the variation in incidence rates [1].
Mammography has been the primary investigating tool for breast cancer screening. Besides the ionizing radiation of mammography increases the health risk of patients and radiologists, depending on the age and breast density of the patient, mammography screening is associated with a false-negative rate of 10–20% [2]. Also, mammography can hardly detect breast cancer in adolescent women with dense breasts. Ultrasound (US) imaging shows increasing interest in breast cancer detection and diagnosis as an effective alternative to mammography. Ultrasound can be used to characterize a breast lesion as solid or cystic. It is efficient in staging breast cancer more precisely and assists physician in guided biopsy [3]. Ultrasound is an effective, convenient, inexpensive, real-time and ionizing radiation-free imaging tool for the diagnosis of breast tumors in clinics [4].
Employing computer algorithms in ultrasound images improves radiologists' accuracy in distinguishing malignant from benign breast masses [5]. The computer-aided diagnosis (CAD) systems have been introduced to improve the capability of radiologist in interpretation and recognition of breast masses [6,7]. The CAD system increases the efficiency of radiologists and their interpretation can also be improved in terms of accuracy, sensitivity and consistency in discrimination of masses. The overall productivity has been increased by reducing the time required for reading the ultrasonagrams manually by radiologists [8].
It is essential to quantify the characteristics of breast tumors for the detection as well as discrimination, which are quite often difficult to grasp due to intrinsic limitations of the ultrasound imaging process, such as low contrast, speckle noise, heterogeneity or artifacts. It is significant to explore the feature, or set of features, which provide better quantifications of the characteristics of tumors [9]. Some general guidelines [10] for identifying significant features which leads to accurate diagnosis are discrimination, reliability, independence and optimality. However, simply combining the number of best performed features does not make the system effective, but the objective is to identify a set of effective features to classification stage by reducing the redundancy [11].
Textural features, extracted from ultrasound images are efficient features for classifiying breast tumors [12]. Gomes et al. [13] extracted twenty two textural features through gray level co-occurrence matrix (GLCM) using 436 breast ultrasound images and obtained a good classification rate with an area AZ of 0.87. The histogram, GLCM, gray level run length matrix (GLRLN) were used to extract textural features from 5500 prostate cancer images [14]. An accuracy of 92.83% was achieved in differentiating tumors by combining all the three features [14]. However, the textural features are effective with a specific ultrasound system and its precision reduces with images acquired from different US systems or with different US settings. The use of morphological features of the tumor which are almost independent of sonographic gain setting or different US machines is an alternative solution [15]. Huang et al. [15] extracted nineteen morphological features from 118 breast ultrasound images and using support vector machine(SVM) classifier, they achieved an AZ of 0.909. Seven morphological parameters for distinguishing malignant from benign breast tumors in ultrasound images were investigated by Alveranga et al. [16]. The morphological features were derived through convex polygon technique and normalized radial length (nrl) to achieve an AZ of 0.865.
Very few works in the literature have concentrated about combining textural and morphological features in the diagnosis of breast tumors in ultrasound. Wu et al. [17] combined auto-covariance texture features and morphological features extracted from 210 breast ultrasound images to discriminate breast tumors in ultrasound images. An accuracy of 92.86% was achieved using SVM classification. In a later work [18] using the same database, they achieved an accuracy of 96.14% using SVM-genetic algorithm based classifier. Alvaranga et al. [19] evaluated the combined performance of twenty textural and seven morphological features in distinguishing breast tumors. An accuracy of 85.37% was achieved on a database of 246 ultrasound images using fisher linear discriminant analysis(FLDA) classification.
In this work, our objective is to assess the individual and combined performance of textural and morphological features for discriminating breast masses in ultrasound images. Figure
1
shows the four stages of an automated computer aided diagnosis system. We have extracted the thirty nine textural and five morphological features from each region of interest (ROI) of breast ultrasound images in the entire database using an automated segmentation method. Support Vector Machine Classifier along with a 10 fold cross-validation scheme has been used for the assessment of individual and combined features using statistical parameters and ROC analysis.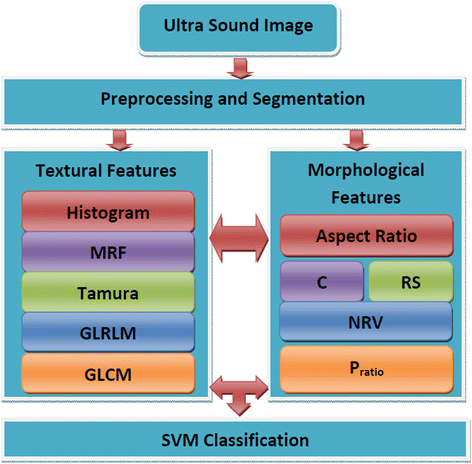 Results
The ROIs are generated for the all 120 US images in the database through image segmentation. For each ROI, totally forty four features, including six histogram, MRF, three Tamura, seven GLRLN and twenty two GLCM features are extracted separately along with five morphological features. We have used 10 fold cross-validation [39] for classification (k = 10), where the total 120 images are divided into 10 partitions. A total of k runs are required to complete the overall classification task with a set of features. In our method, among the k parts of data, (k-1) parts are used to train the classifier while one part is kept under testing. This process is repeated for 10 times to ensure all parts of data are tested. The experiments have been run using MATLAB 7.0 (Mathworks Inc, USA), on a computer which has Intel Core i3 processer (Intel Corp, USA), 8 GB RAM and Windows 7 operating system (Microsoft Corp, USA).
Discussion
We have combined textural features and morphological features to improve the classification accuracy of diagnosing masses in breast ultrasound images. At first we have extracted features from the ROIs of the entire images in the database using textural as well as morphological methods separately as shown in Table 1. The observed accuracy values using the SVM classifier for textural features and morphological features are varied from 66.66% to 90.83% and 61.66% to 85.83% respectively. Texture analysis allows the detection of mathematical patterns in the gray-level distribution of the pixels. Textural features have been found to be efficient in classifying breast tumors in ultrasound images. Since the borders of benign tumors are smoother than the borders of malignant ones, breast tumors may be evaluated based on their morphological information [18]. The infiltrative nature of malignant tumors generate an irregular pattern of impedance discontinuities, which results irregular, spiculated or ill-defined boundary in breast ultrasound images. However, benign tumors have a more uniform growth with smooth, round, and well-defined boundaries [9].
Based on this, Wu et al. [17,18] combined textural and morphological features and achieved an AZ value of 0.9614. Furthermore, a sensitivity of 97.78% is achieved which means the system can detect malignant tumors with high probability in contrast with mammograms where the false negative rates are up to 20% [2]. Based on this, we have selected three best performing features from each textural and morphological category to form nine combined features.
As shown in Figure
6
, the GLCM and P
ratio
combination produced highest numerical values among the all combinations under comparison with accuracy, sensitivity, specificity and MCC (95.83%, 96%, 95.71% and 0.9146) respectively (Table
2
). Moreover, we have achieved an A
Z
value of 0.9444 with the combination of GLCM and P
ratio
. The textural based features (F01-F39) are extracted through histogram, MRF, Tamura, GLRLN and GLCM from each segmented ROI of the 120 breast ultrasound images. The GLRLN is computed in four orientations (0
°
, 45
°
90
°
135
°
) as suggested in [
14
]. The Gray Level Co-occurrence Matrix (GLCM) has been used to extract a total of twenty two features by considering the most appropriate direction
θ
= 45
°
and distance d = 2 as suggested in [
14
,
39
]. Besides, a quantization level of 32 is used in our experiment; although it is experimentally proved that the gray-level quantization does not improve or worsen the discrimination power of texture features but time consumption increases with the number of quantization levels [
13
].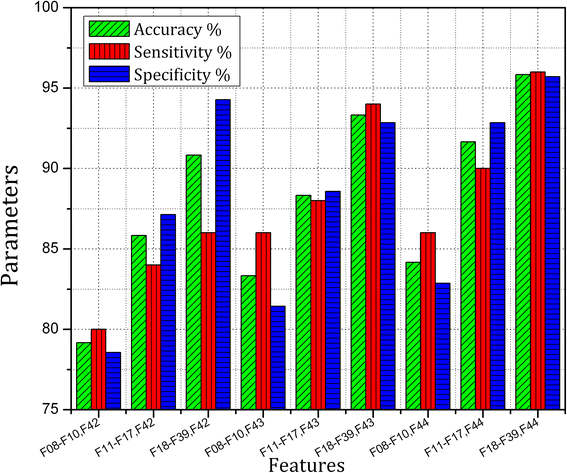 The shape variation between benign and malignant tumors in an ultrasound image is an effective feature for classifying breast tumors [41,15]. Nineteen morphological features, used in [15] with 118 breast ultrasound images, yielded an AZ value of 0.9087. The most common parameter to quantify tumor shape is the depth-to-width ratio [42], since benign cysts tend to be wider than deeper. An Aspect ratio [15] greater than 1 increases the probability of malignancy. The convex polygon technique is based on the determination of the convex hull; the smallest convex region that contains all points belonging to a given region shape [37]. Accordingly , the amount of irregularity in the contour increases the area difference between convex hull region and the tumor region, which corresponds to the level of malignancy. This characteristic can be quantified using two parameters: RS and NRV, using which, we have obtained accuracy values of 61.66% and 83.33% respectively. The length of the tumor perimeter is an important indicator for diagnosis [15]. As malignant tumors usually have irregular shapes, a large tumor perimeter indicates that a tumor is malignant. The circularity C, the ratio of square of the perimeter to the area, reflects the complexity of contours by producing higher values for irregular shapes. The ratio between the tumor perimeter and convex perimeter (P ratio ) [18] increases when the tumor shape is highly irregular. In our work, the accuracy values obtained by C and Pratio are 74.16% and 85.83% respectively.
The change in classification accuracy for different values of parameter
γ
is shown in Figure
7
. The features for SVM are obtained through GLCM (
θ
= 45
°
, 
d
= 2
and L
 = 32). The RBF kernel is used in SVM classifier, require appropriate values of
C
and
γ
for demonstrating optimum performance. We have set the C value (C = 100) as suggested in [
18
] and
γ
value is chosen (
γ
=0.2) by varying the value from 0.1 to 1 and observing the accuracy of discrimination as shown in Figure
7
. The curves in Figure
5
compares the area
A
Z
produced by the GLCM (
A
Z
 = 0.9388), P
ratio
(
A
Z
 = 0.8890) and the combination of these two (
A
Z
 = 0.9444) which suggests that the combined performance of textural and morphological features increases the accuracy of diagnosis. Our experiment aims at assessing the individual and combined classification performance of textural and morphological features in breast ultrasound. However, for an automated breast CAD system, one cannot use all extracted features at the same time and it require an effective feature selection stage should be added. The classification performance depends on the selected feature set and also the size of the feature vector. Inadequate number of training samples for the finite number of training data leads to "curse of dimensionality" problem, which leads to degraded classification performance [
43
,
44
]. Introducing an efficient feature selection algorithm at this stage removes the irrelevant and redundant features and a new feature set is framed with low-dimensional dataset for effective classification [
39
,
43
]. This study suggests that an effective combination of textural and morphological features can increase the performance of CAD systems using breast ultrasound images.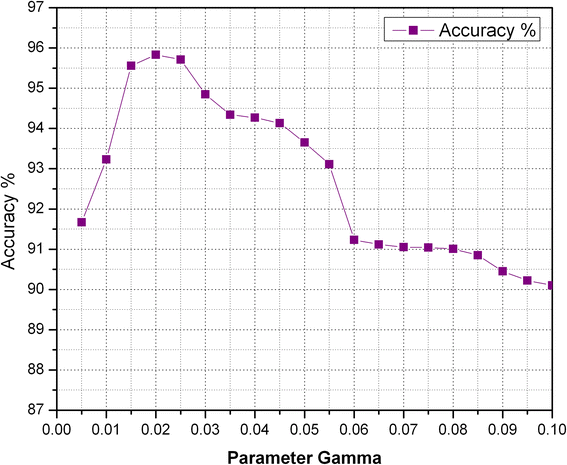 Conclusion
In this work, we have evaluated the classification performance of combined textural and morphological features for the discrimination of breast masses in ultrasound images. The individual and combined results produced by textural and morphological features are analyzed using statistical parameters: accuracy, sensitivity, specificity, MCC and area under ROC curve. The results suggested that the classification accuracy of breast ultrasound CAD system increases with combined textural and morphological features.
Declarations
Acknowledgements
We would like to acknowledge Dr T.S.A.Geertsma, MD, Head, Department of Radiology, Gelderse Vallei Hospital, Ede ,the Netherlands, for providing breast ultrasound images in various categories.
Authors' Affiliations
(1)
Research & Development Centre, Bharathiar University, Coimbatore, India
(2)
Department of Electronics & Communication, K.S.R College of Arts & Science, Tiruchengode, India
(3)
Department of Electronics & Communication, Govt Arts College, Dharmapuri, India
(4)
Department of Computer Applications, K.S.R College of Arts & Science, Tiruchengode, India
Copyright
© Prabusankarlal et al.; licensee Springer. 2015
This is an Open Access article distributed under the terms of the Creative Commons Attribution License (http://creativecommons.org/licenses/by/4.0), which permits unrestricted use, distribution, and reproduction in any medium, provided the original work is properly credited.