Design and implement chords and personal windows for multi-user collaboration on a large multi-touch vertical display
Ioannis Leftheriotis

1, 2

Email author

,

Konstantinos Chorianopoulos

1 and

Letizia Jaccheri

2
Human-centric Computing and Information Sciences
2016
6:14
Received: 26 November 2015
Accepted: 22 June 2016
Published: 10 September 2016
Abstract
Co-located collaboration on large vertical screens has become technically feasible, but users are faced with increased effort, or have to wear intrusive personal identifiers. Previous research on co-located collaboration has assumed that all users perform exactly the same task (e.g., moving and resizing photos), or that they negotiate individual actions in turns. However, there is limited user interface software that supports simultaneous performance of individual actions during shared tasks (Fig.
1
a). As a remedy, we have introduced multi-touch chords (Fig.
1
b) and personal action windows (Fig.
1
c) for co-located collaboration on a large multi-touch vertical display. Instead of selecting an item in a fixed menu by reaching for it, users work simultaneously on shared tasks by means of personal action windows, which are triggered by multi-touch chords performed anywhere on the display. In order to evaluate the proposed technique with users, we introduced an experimental task, which stands for the group dynamics that emerge during shared tasks on a large display. A grounded theory analysis of users' behaviour provided insights into established co-located collaboration topics, such as conflict resolution strategies and space negotiation. The main contribution of this work is the design and implementation of a novel seamless identification and interaction technique that supports diverse multi-touch interactions by multiple users: multi-touch chord interaction along with personal action windows.

Keywords
ChordsMulti-touchCollaborationPersonal windowsMulti-userLarge screen
Background
In recent years, there have been great advances in the accuracy and the available number of touches supported on large-scale multi-touch (MT) hardware technology (e.g., FTIR, laser-plane, DI, other combined installations). Although this allowed multiple users to interact with a relatively low-cost screen simultaneously, there is still limited user interface software technology support for group collaboration. For example, many MT systems (e.g., moving and resizing photos) assume that co-located users perform the exact same type of interaction on the screen, but there are applications (such as drawing on a shared canvas with different pens or working on maps) that require concurrent activity of diverse interactions. As a result, there is a need for user interfaces that support concurrent individual actions on a multi-touch screen without the need of special equipment.
A table/wall setting provides a large interactive visual surface for groups to interact together. It encourages collaboration and coordination, as well as decision making and problem solving among multiple users and therefore needs new kinds of interface [1]. Since most applications are developed for desktop computers/mobile devices and for single-user interaction, new interaction techniques that support seamless collaboration on larger MT screens are needed. Most conventional metaphors and underlying interface infrastructures for single-user desktop systems have been traditionally geared towards single mouse and keyboard-based WIMP interface design and might not be suitable for large MT screens. For example, Nacenta et al. [2] carried out an exploratory study to determine how several types of established interaction techniques (such as drag-and-drop, radar views etc.) affect coordination and awareness in tabletop tasks and proved that the choice of interaction technique does indeed matter, affecting coordination, performance and preference measures. Elliott and Hearst [3] proposed a touch-sensitive interface should be used as a more appropriate interaction technique for larger interaction surfaces.
Notably, the Reality MT screen at the University of Groningen
1
offers an impressive large screen, but there is no support for user awareness or appropriate menu selection technique. Using conventional pulldown or popup menus might require walking across the room to the appropriate button [
4
]. In the following figures, we demonstrate one such problem. In order for the user in the middle to change the colour of his drawing pen from black to red (Fig.
2
), he has to literally walk toward the left part of the screen, where the appropriate menu can be found. When the user arrives at the menu, the user on the right has already started painting with the red colour (Fig.
3
). User in the middle has again to walk back to his original position in order to draw his blue line. It is worth observing that the user on the right has been enforced to continue the rest of his painting with the new pen colour, which might have not been his intention (Fig.
4
).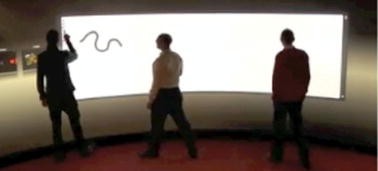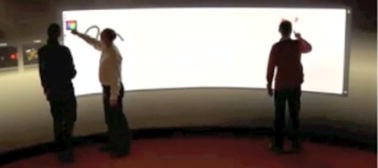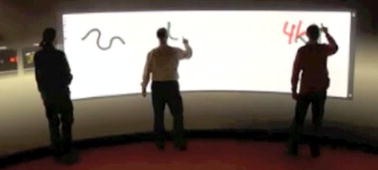 A flexible and scalable solution to the above practical issue has been one of the main motivations of our research. We considered that a chorded—simultaneous touch of more than one finger—input technique might be the solution. We design and develop an innovative method that makes use of chorded interactions and personal windows. Users are able to select items from menus or execute different functions while the system is able to identify the user. In Fig.
5
, we demonstrate a mock-up of the solution we propose.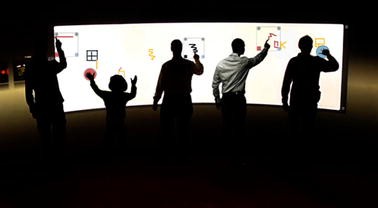 In this paper, we reflect on the need of such interfaces for multi-touch screens and propose a technique in order to improve group work on a MT screen: the combination of chord interaction along with personal action windows for multiple users. Previous research has highlighted the need for a novel set of MT programming toolkits [5] being reusable [6]. Thus, we have designed and developed a novel technique in an open-source library and evaluated its quality for group collaboration with a novel experimental task.
In summary, the main contribution of this research is a) the design and b) the development of multi-touch chords interface along with personal action windows in a collaborative environment as a seamless identification and interaction technique for large vertical MT displays.
Chords and personal action windows
In the following subsections, we firstly describe the related work concerning the chord interaction technique and the personal windows interface and then, we demonstrate the need for a toolkit that can handle these multi-user multi-touch techniques and describe what experimental task is needed in order to evaluate this multi-user multi-touch interaction techniques.
Chorded input on multi-touch screens
Previous multi-touch research has focused on improving single user performance with chorded menus. Lepinski et al. [7] found that directional chords for marking menus performed significantly faster than traditional hierarchical menus. Bau et al. [8] proposed the Arpege contextual technique, in order to make it easy for users to learn multi-touch chord gestures. Wagner et al. [9] propose that even more complex posture chords with multiple fingers can be learned and memorized. Bailly et al. [10] found that the finger-count shortcuts perform better in menu selection, especially with expert users. Kin et al. [11] proposed a finger registration technique that can identify in real-time which hand and fingers of the user are touching the multi-touch device. In this way, they have introduced the Palm Menu, which directly maps commands or operations to different combinations of fingers and they have found that using finger chords has significant performance advantage.
According to a research conducted by Wobbrock et al. [12], when users were asked to propose their own gestures in a participatory design experiment, they claimed that they rarely care about the number of fingers they employ on a MT surface. This seems to contradict the theory behind chorded input we propose in this work. However, in that experiment, users had no previous experience with any MT surface and were novice users. In another research, Bailly et al. [10] prove that finger-count shortcuts can be learned faster than stroke shortcuts, confirming that people also easily learn to "express numbers with their fingers". According to Kin et al. [11], chorded interaction techniques might be more suitable for users who have already been trained and as Kin et al. [11] demonstrate, using finger chords has significant performance advantage (compared to popup buttons).
Personal multi-touch areas
There have been many studies investigating territoriality in co-located MT tabletop installations [13] or in remote tabletop settings [14]. According to observations, users usually prefer working on their own personal spaces and even partition the screen in such a way each user has its own private area to work in (as in Morris et al.'s replicated control widgets [15]). Additionally, in a tabletop environment, users tend to interact mostly in the area near where they are sitting [16]. Based on these observations and due to the experience of users in traditional desktop environments, a personal area similar to those of a window was considered during the design of the proposed multi-touch interaction technique.
Multi-touch toolkits
As both our experience and the taxonomy of multi-touch frameworks discussed in Krammer [17] shows, a lot of different multi-touch SDKs and Toolkits have been developed. Some of them are device-related (e.g. Microsoft Surface SDK or DiamondTouch SDK). On the other hand, there have been presented multi-touch Toolkits such as Python Multitouch (PyMT) or Multi-touch for Java, TouchScript (Unity), which are open-source, and platform-independent systems. There is no doubt that the Multitouch community is vivid and new toolkits are being developed constantly either by practitioners and hobbyists (e.g. Kivy) or researchers (e.g. uTableSDK).
All these multi-touch SDKs/toolkits support multiple touches. However, it seems that developers who designed the toolkits, were not really focused on one of the main characteristics of multi-touch surface, multi-user interaction. Developers did not build tools/widgets that can be used by multiple users simultaneously and thus augmenting collaboration. They relied on other developers for building their own tools by extending the toolkits. Indeed, some really interesting widgets such as multi-touch menus or pie menus etc can be found in the literature. However, once more, these widgets have been primarily developed for single user use and were evaluated accordingly.
Based on the studied literature, there is a need for more generic toolkits that can be used in various situations for co-located collaboration.
Experimental tasks in related work
Apart from the toolkits, there is a need for tasks that evaluate collaborative technologies [18]. In our work, we are more focused on a task aimed mainly at examining the physical performance of the users instead of developing a decision-making or intellective type of task (such as the job-scheduling tasked proposed in [18]). There are some experimental tasks in the literature such as the jigsaw collaborative puzzle [19]. Based on the relative literature, drawing stands out as a relatively representative task of a collaborative application for multiple users, either in a co-located environment (e.g. [20] as in our case), or in remote environments (distant drawing, e.g. [21]). But we finally consider using a more simplified drawing task, like that on Dillon's et al. [22] experiment, because researchers need to gather more data on user behaviour, preferences and strategies. Especially for a multi-user multi-touch interaction technique, researchers need a task that (a) would allow for simultaneous use of multiple users, (b) would urge users to constantly interact and select items from a hypothetical menu (as in the collaborative photo tagging task of Morris et al. [15] but without using any special equipment) and that (c) could be used on a large vertical MT screen and not being restricted for tabletop use.
ChordiAction toolkit and interaction design
In this section, we discuss the proposed interaction technique: we give the algorithm we have implemented and the interaction design of a non-intrusive software user-identification technique which we propose as a solution for simultaneous multi-user interaction on a multi-touch screen.
Algorithm
Our main aim was to promote the diverse and simultaneous use of multi-touch screen by multiple users. Additionally, our chord-interaction toolkit was designed to be configurable and reusable. Developers or researchers can customize the toolkit to adjust it to their own needs or experiments.
In this subsection, we describe an abstract algorithm of what we have implemented: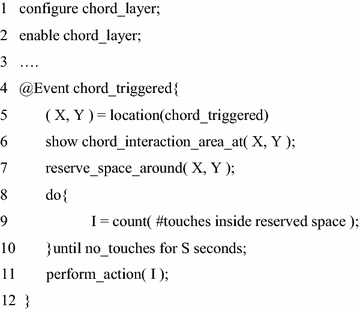 In the beginning, we have to define how the area in which we will apply our chord will be triggered. There are different options such as a double-tap or a long-tap event. In addition, we have to define other details such as the number of seconds that the system will wait in order to receive the chord or where the chord interaction area will be placed in relation to the interaction. In line 2, developer creates an event handler that monitors interactions and when the interaction that triggers the chord area takes place the event is triggered (line 4). Then, the system locates the place where the event took place (line 6) and reserves the space (line 7) in order to let the user perform his/her chord. Depending on the number of fingers inside the reserved area (line 9) the system performs the appropriate action (line 11).
Conclusion
In this work, we proposed and implemented a chording technique that enables higher levels of multi-user diverse interactivity, collaboration and awareness when used along with personal action windows. Users' interaction techniques were investigated and issues such as conflict resolution strategies were discussed. The main contribution of this work is the design and implementation of this novel seamless identification and interaction technique that is scalable and supports diverse multi-touch interactions especially on larger MT surfaces.
We evaluated this technique in vertical multi-touch surfaces, but it can be used in tabletop systems as well, since it was designed bearing in mind the general characteristics of MT surfaces (multi-user interaction, user orientation, user movements etc.) and how users work on them no matter their setting.
In this research, we examined the idea of using chords along with personal/action windows in a MT collaborative environment for menu selections as a non-intrusive technique, as well as we designed and implemented an easily repeatable synthetic experimental dot-to-dot task that demonstrates the potential of this technique and can be used as a tool to evaluate other techniques on large MT surfaces by other researchers. This research also demonstrates the need for designing and implementing toolkits and applications that are dedicated to MT interaction style and take advantage of the unique characteristics of a MT surface. For instance, although a chording system was absent from MT Toolkits, we believe that MT dedicated interaction techniques like this, should be integrated in future MT Toolkit updates for being: (a) a simple ad hoc solution, (b) fast in comparison to traditional interaction techniques, (c) atomic and thus suitable for multi-user interaction and (d) flexible and thus scalable.
In this paper, we reflected on the need of such interfaces for multi-touch screens and demonstrated that a combination of chord interaction along with personal action windows for multiple users can be a technique suitable for group work on a larger MT screen.
Declarations
Authors' contributions
IL had the main idea and wrote most of this paper. He has also developed the toolkit and conducted the experimental task. KC contributed in structuring of the paper and polishing the introduction section. He also participated in discussions and provided corrections and extended feedback. LJ helped with the experimental task and valuable discussions. IL was also the main responsible for the data collection and analysis. All authors read and approved the final manuscript.
Acknowledgements
We would like to thank our pilot users who participated in our experiments.
Competing interests
The authors declare that they have no competing interests.
Open AccessThis article is distributed under the terms of the Creative Commons Attribution 4.0 International License (http://creativecommons.org/licenses/by/4.0/), which permits unrestricted use, distribution, and reproduction in any medium, provided you give appropriate credit to the original author(s) and the source, provide a link to the Creative Commons license, and indicate if changes were made.
Authors' Affiliations
(1)
Department of Informatics, Ionian University, Corfu, Greece
(2)
Department of Computer and Information Science, Norwegian University of Science and Technology, Trondheim, Norway