An indoor augmented-reality evacuation system for the Smartphone using personalized Pedometry
Human-centric Computing and Information Sciences
2012
2:18
Received: 5 August 2012
Accepted: 30 October 2012
Published: 24 November 2012
Abstract
There currently exist widely used mobile phone emergency applications for the smartphone and limited mobile emergency applications for indoor environments. However, the outdoor applications only focus primarily on providing accident information to users, and the indoor applications are limited by the unavailability of GPS user-positioning and by WiFi-based access problems. To compensate for these limitations, we propose the RescueMe system, which uses an indoor mobile Augmented Reality application, personalized pedometry, and an optimal exit path algorithm. Together these components comprise a system that can quickly and easily recommend an efficient exit path to mobile phone users in emergency situations. We have developed the mobile-based RescueMe system for use in large-scale buildings that contain complex paths. We show how RescueMe leverages the sensors on a smartphone and utilizes Augmented Reality, cloud information, daily-based user walking patterns, and an adaptive GPS connection method, to deliver critical evacuation information to mobile phone users in indoor emergency situations.
Keywords
RescueMobileAugmented RealityAREvacuation systemIndoorNavigation
Introduction
Significant loss of human lives and injuries attributed to building fires occur annually in the United States. In 2009, there were 90 civilian lives lost and 1,500 serious injuries that occurred in 89,200 buildings, according to the U.S. FEMA (Federal Emergency Management Agency) [1]. The loss of human life or injury during a building fire has many causes, such as: asphyxiation or lung damage caused by smoke inhalation, building structure collapse on people unable to evacuate a building in time, and bodily injury caused by trampling of those caught in crowds of people trying to evacuate. A primary factor contributing to these scenarios is the time it takes for people to evacuate a building. If they can escape from the fire within the building in a sufficient amount of time, they can survive such an emergency.
The primary goal of our research is to develop an evacuation system for mobile phone users that can help them survive and escape quickly from inside of buildings when encountering an emergency situation, such as a fire. The RescueMe [2] system was designed to be run on the smart phone, using the phone's existing built-in sensors and shared information from cloud servers. In addition our system utilizes Augmented Reality on the smartphone, as well as personalized pedometry and an adaptive GPS connection method. RescueMe does not require the use of any additionally installed building infrastructure. Via cloud servers, it is able to provide real-time data to users about crowded areas or exit doors to avoid, when they are seeking a quick exit path from a building in an emergency. Although there are already some existing localization systems, such as RFID or Wi-Fi, that can also help to locate and track users, these systems are quite expensive. Such systems require installing a costly infrastructure of hundreds or thousands of RFID or Wi-Fi devices. They also do not provide Augmented Reality (AR) assisted guidance to users, as ours does. RescueMe utilizes already existing smartphones, in conjunction with cloud servers, to localize users inside buildings to provide them with critical information and an optimal evacuation path to follow during emergency situations.
A screen shot of the RescueMe prototype is displayed in Figure
1
. It illustrates how AR-assisted guidance is implemented on the mobile phone. AR tags on the phone indicate the exit path and the remaining distance to be covered by the user to reach the exit door. A possible scenario for use of the RescueMe system, might be the following. Imagine a person visiting an unfamiliar large office building or hotel, and then suddenly hearing the fire alarm sound. A user, with our RescueMe system installed on his/her mobile phone, would then use the phone to snap a picture of a room number or name on the office or hotel door closest to him/her. Through the use of the building structure's map and cloud service, such as an IQEngine [
3
], RescueMe first localizes the individual in the building and then via Augmented Reality, guides the individual to safety with the AR arrow tags displayed on the phone. During this process, RescueMe is also calculating and recommending the shortest and quickest individualized exit path to this mobile user via AR. The optimal exit path is calculated based upon this individual's personalized pedometry and cloud server information that is used to steer this individual away from exit doors that are crowded with other people also trying to escape.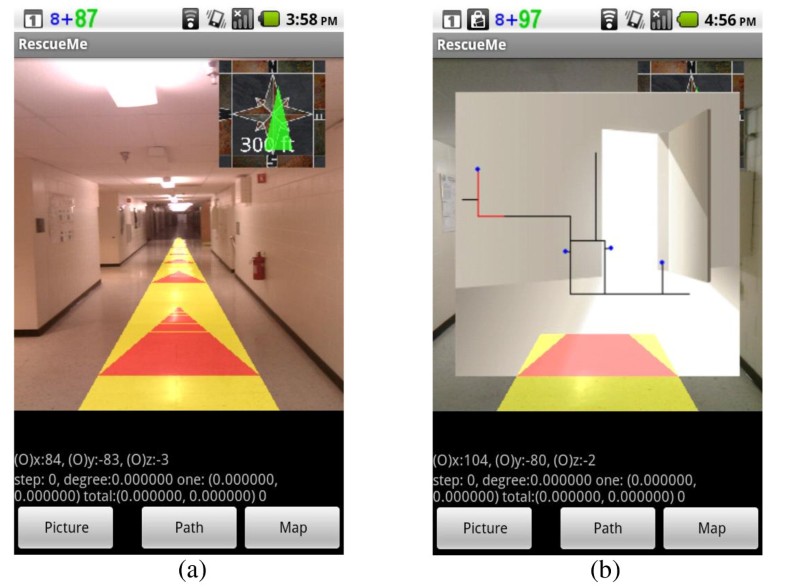 This paper offers the following contributions: a mobile phone-based indoor emergency evacuation system for medium-large buildings that is not infrastructure-enhancement dependent (e.g., requiring additional RFID or Wi-Fi sensors); an indoor image-based localization method, using the smartphone and cloud services; a mobile guidance system using AR on smartphones to direct users to safety; a personalized pedometry algorithm that estimates an individual's stride length to more accurately determine a user's distance and walking speed, and which utilizes an adaptive GPS connection method; and a recommendation algorithm for the shortest delay path that reroutes users away from crowded exits to uncrowded exits during emergency situations.
Related work
RFID tags are explored [4] as a means for non-GPS localization. RFID tags, statically placed in a building beforehand with precise location knowledge can be used as navigational waypoints. The requirement to install such an infrastructure within the environment is a major limitation of this approach. For the mobile phone localization, received signal strength (RSS) of Wi-Fi signals is the current preferred method [5–7]. Methods used are multilateration and fingerprinting. Multi-lateration requires at least 3 access points and precise knowledge of their locations to triangulate a user's location through RSS measurements. Fingerprinting requires the user to map the Wi-Fi signal propagation characteristics of the environment beforehand, creating a probabilistic heat map that may be consulted to compare RSS readings obtained by the user. All of the proposed techniques require a prior knowledge about the environment and so their application is less generalized.
Pedometer dead-reckoning (PDR) techniques provide a more general solution by not requiring any prior modification or knowledge of the navigational environment. Given a known starting location (such as that provided by GPS at the entry point to a building), users can probabilistically determine their navigational pathway through footstep detection and heading estimation. Such techniques are limited to the sensor placement and the sensor quality. The most accurate results require external sensor placement in the users shoes [7–9], e.g. yielding 0.5 m - 0.75 m accuracies in 8725 m2 of 3-story building space [9]. Using only the mobile smart phone device offers a more generalized solution, but suffers from limited sensor accessing, poor MEMs (Micro Electro-Mechanical Systems) sensor quality, and looser coupling between the user's movement and the sensing capability. CompAcc [10] can also localize a mobile user by using a map-matching technique along with GPS, an accelerometer, and compass–but only in outdoor areas. This author's method cannot be used to localize a user within a building initially, because it requires a GPS connection to initially localize the user. Even if the user was initially localized within the building, this author's method could not be used, because it requires the periodic use of GPS to correct for localizing error. Stride estimation is done statically beforehand, contributing to the errors, depending on the variability of a user's gait. Dynamic stride estimation has been explored, but sensors are normally mounted on the foot in order to capture leg swing. Work to compensate for these errors employ the Kalman filter [4, 7, 11], Weinberg expression [12], or zero-velocity updates (ZUPT) [7, 8]. These three techniques minimize inertial drift and can predict actions based on prior event knowledge. In particular, the Kalman filter has shown wide usage, and the ZUPT has shown excellent correction accuracy.
System design and architecture
In this work, our goal is to design and develop an indoor augmented reality system for evacuation, by leveraging the sensing capabilities of smartphones and user behavior. In this section, we first highlight the system design requirements and challenges, then describe the overall system architecture and key components.
System design requirements and assumptions
Supporting indoor augmented reality for evacuation calls for advances in a number of research areas, including accurate and efficient indoor localization, efficient indoor AR rendering and user-friendly interfacing, and effective evacuation functionalities.
Indoor localization is a key design requirement for indoor AR systems. Due to the diversity and dynamics of indoor environments and user activities, we need to identify a user's indoor location precisely (with fine granularity and robustness), with low latency, and without incurring too much overhead on the mobile device.
Efficient exit path recommendation is also important for evacuating a dangerous place in the building. The system needs to effectively recommend the best exit path, avoiding crowded places.
Our solution should not make unrealistic assumptions about the existence of extensive infrastructure to assist with any of the above tasks. Our system does not assume the existence of elaborate indoor localization systems. Even WiFi connectivity and WiFi localization are not necessary, so long as there exists an external wireless connection, such as 3G/4G. We assume only the capabilities and sensors common to most standard smartphones, e.g. today's iPhones and Android phones, that commonly have a camera capable of capturing continuous video, and accelerometers capable of measuring motion. We assume that the digital compass works indoors, which we've verified to be normally true in typical building settings. We do not assume the existence of gyroscopes on the phone, since not all smartphones support them. We also assume that RescueMe already has the map image of their building, the geographical orientation and actual size of their building, room doors' location with the room number and the walking paths, marked on the map. RescueMe supports evacuation services in all buildings without any additional cost, if the information is provided.
Our task is then to show how, under these assumed conditions, we can construct a system that successfully supports mobile augmented reality in typical indoor settings.
System architecture
The architecture of RescueMe shown in Figure
2
consists of three logical components:
1.

Mobile component: This component runs on the user's smartphone. This component implements four important functions. First, it provides inputs for image-based positioning by transmitting appropriate snapshots of nearby room number. Second, it implements a pedometry-based localization algorithm to accurately determine the current position and orientation of the user as the user walks up and down the hallway. Third, it implements 3-D rendering of the building from the current perspective (location, orientation, etc.) using AR tags. Finally, it records user's walking patterns such as walking impact and a stride length in an outdoor area to predict user's walking distance in the building.

2.

External Image labeling Service: RescueMe uses an external image labeling service to identify a room number from a room number snapshot taken by the mobile component. This service may use any of the well known techniques, such as computer vision and crowd sourcing, for label identification. In our current prototype, we use a commercial image labeling Web service called IQ Engines [3].

3.

RescueMe Server: This component implements our recommendation algorithm for the best exit path for each user. RescueMe selects the path with the shortest time to evacuate. This is not always the shortest distance path. For example, if the shortest distance path is too crowded, RescueMe observes the delays of other users in the system, and finds another path that is faster, rerouting and notifying each affected user in real time.
System components
In this section, we describe the design and implementation of each component of the RescueMe system. The RescueMe Server coordinates all interactions among the system components, and is responsible for maintaining a spatial database that contains the building's map and metadata that will be rendered by the AR component on the mobile client. The RescueMe Server is implemented as a Web server that exposes its functionality externally.
Conclusions
In this paper, RescueMe was shown to be a novel emergency evacuation system that was successfully implemented on the mobile phone, for use in large indoor building environments. We explained how we developed and tested the various components of this system, which include: personalized pedometry, indoor mobile Augmented Reality, cloud information, and an optimal exit path algorithm. The combined components of this system were shown to work efficiently together to recommend the quickest and shortest evacuation path to users in emergency indoor situations. In addition, the practical personalized pedometry algorithm, which incorporates user stride estimation and utilizes an adaptive GPS connection method, was proven to provide high-positioning accuracy for mobile phone users of this system.
RescueMe was potentially shown to solve the current limitations of available emergency applications on smartphones by leveraging the sensors on the phone, in conjunction with a user's personalized daily walking stride length estimation and user-localization cloud information to support a user's timely evacuation from medium-large scale building environments in emergency situations. However, at this point the RescueMe application has not been tested in a real live emergency evacuation situation. It was impossible for the testing phase of this system to generate a real live emergency situation (e.g., a fire or bomb scare in a building) in which to fully evaluate its performance in real life. However, the hope is that this system might be further tested on a larger scale with simulated emergency evacuations so that at some future date it could be provided to the public as a fully-tested mobile application evacuation system. Furthermore, another future enhancement of the RescueMe application would be to integrate it with the building's existing alarm system or cloud (e.g., twitter, police database) to obtain critical emergency information for the user who is trying to evacuate the building, using our system in real-time.
Experimental consent
Written informed consent was obtained from the experimental participant for publication of this report and any accompanying images. Our user-based experiment was approved by Institutional Review Board (IRB) [20].
Declarations
Acknowledgements
This work was supported by a grant from the National Science Foundation, CCF 1048298. The authors wish to thank Youjin Seo, Sua, Jamie Williamson, and Cathy Kerry for helping with some experiments or sharing ideas.
Authors' Affiliations
(1)
Department of Computer Science, University of Colorado, Colorado, USA
References
Federal Emergency Management Agency (FEMA) [http://www.fema.gov/] []
Ahn J, Han R: RescueMe: An Indoor Mobile Augmented-Reality Evacuation System by Personalized Pedometry. In Proceedings of IEEE APSCC 2011, 70–77. 10.1109/APSCC.2011.26Google Scholar
Iq engines: Image recognition and visual search [http://www.iqengines.com] []
Miller LE, Wilson PF, Bryner NP, Francis MH, Guerrieri JR, Stroup DW, Klein-berndt L: Rfid-assisted indoor localization and communication for first responders. 2006, 1–6. 10.1109/EUCAP.2006.4584714Google Scholar
Miluzzo E, Lane ND, Fodor K, Peterson R, Lu H, Musolesi M, Eisenman SB, Zheng X, Campbell AT: Sensing meets mobile social networks: the design, implementation and evaluation of the cenceme application. In Proceedings of the 6th ACM conference on Embedded network sensor systems, SenSys '08. ACM, New York; 2008. pp 337–350 pp 337–350Google Scholar
Miluzzo E, Cornelius C, Ramaswamy A, Choudhury T, Liu Z, Campbell AT: Darwin phones: the evolution of sensing and inference on mobile phones. MobiSys 2010, 5–20. 10.1145/1814433.1814437Google Scholar
Fuchs C, Aschenbruck N, Martini P, Wieneke M: A survey on indoor tracking for mission critical scenarios. Pervasive and Mobile Computing 2010. In Press, Corrected Proof In Press, Corrected ProofGoogle Scholar
Beauregard S: Omnidirectional Pedestrian Navigation for First Responders. In 4th IEEE Workshop on Positioning, Navigation, and Communication 2007 (WPNC'07). Hannover, Germany; 2007. pp 33–36 pp 33–36Google Scholar
Woodman O, Harle R: Pedestrian localisation for indoor environments. In In Proceedings of the 10th international conference on Ubiquitous computing (UbiComp '08). ACM, New York; 2008. pp 114–123 pp 114–123Google Scholar
Constandache I, Choudhury RR, Rhee I: Towards mobile phone localization without war-driving. In In Proceedings of the 29th conference on Information communications (INFOCOM'10). IEEE Press, Piscataway; 2010. pp 2321–2329 pp 2321–2329Google Scholar
Seco F, Jimenez A, Prieto C, Roa J, Koutsou K: A survey of mathematical methods for indoor localization. In: Intelligent Signal, Processing, 2009. WISP 2009. IEEE International Symposium on 2009. pp 9–14 pp 9–14Google Scholar
Ladstaetter S, Luley P, Almer A, Paletta L: Multisensor data fusion for high accuracy positioning on mobile phones. In Proceedings of the 12th international conference on Human computer interaction with mobile devices and services, MobileHCI '10. ACM, New York; 2010. pp 395–396 pp 395–396Google Scholar
González MC, Hidalgo CA, Barabási A-L: Understanding individual human mobility patterns. Nature 2008, 453: 779–782. 10.1038/nature06958View ArticleGoogle Scholar
Schmitz A, Silder A, Heiderscheit B, Mahoney J, Thelen DG: Differences in lower-extremity muscular activation during walking between healthy older and young adults. J Electromyogr Kinesiol 2009, 19: 1085.91.View ArticleGoogle Scholar
Callisaya ML, Blizzard L, Schmidt MD, McGinley JL, Srikanth VK: Sex modifies the relationship between age and gait: a population-based study of older adults. J Gerontol A Biol Sci Med Sci 2008,2008(63):165–170.View ArticleGoogle Scholar
Brown LA, Gage WH, Polych MA, Sleik RJ, Winder TR: Central set influences on gait: age-dependent effects of postural threat. Exp Brain Res 2002, 145: 286–296. 10.1007/s00221-002-1082-0View ArticleGoogle Scholar
Dijkstra EW: A note on two problems in connexion with graphs. Numerische Mathematik 1959, 1: 269–271. 10.1007/BF01386390MathSciNetView ArticleGoogle Scholar
Gu Y, Lo A, Niemegeers I: A survey of indoor positioning systems for wireless personal networks. IEEE Commun Surv Tutorials 2009,11(1):13–32.View ArticleGoogle Scholar
Levenshtein V: Binary codes capable of correcting deletions, insertions, and reversals. Sov Physice-Doklady 1966, 10: 707–710.MathSciNetGoogle Scholar
Ahn J, Han R: Detecting human behavior and feelings to determine safety level status using the mobile phone in a user's daily life, Protocol:12–0260. 2012. The University of Colorado at Boulder, pp 798–802Google Scholar
Copyright
© Ahn and Han; licensee Springer. 2012
This article is published under license to BioMed Central Ltd. This is an Open Access article distributed under the terms of the Creative Commons Attribution License(http://creativecommons.org/licenses/by/2.0), which permits unrestricted use, distribution, and reproduction in any medium, provided the original work is properly cited.