When social computing meets soft computing: opportunities and insights
Human-centric Computing and Information Sciences
2018
8:8
Received: 30 January 2018
Accepted: 12 March 2018
Published: 26 March 2018
Abstract
The characteristics of the massive social media data, diverse mobile sensing devices as well as the highly complex and dynamic user's social behavioral patterns have led to the generation of huge amounts of high dimension, uncertain, imprecision and noisy data from social networks. Thanks to the emerging soft computing techniques which unlike the conventional hard computing. It is widely used for coping with the tolerant of imprecision, uncertainty, partial truth, and approximation. One of the most important and promising applications is social network analysis (SNA) that is the process of investigating social structures and relevant properties through the use of network and graph theories. This paper aims to survey various SNA approaches using soft computing techniques such as fuzzy logic, formal concept analysis, rough sets theory and soft set theory. In addition, the relevant software packages about SNA are clearly summarized.
Keywords
Social computingSoft computingFuzzy logicFormal concept analysisRough sets
Introduction
Social media are computer-mediated tools that allow people to create, share or exchange information, ideas, pictures, audio or videos in virtual communities by using open Internet. Among online social networking services, there exist very interesting and challengeable research works on how to improve an efficient social media computing and how to make an effective social network analysis and mining from the perspectives of both academia and industry. Therefore, social computing, as a research discipline, is emerging for handling those kind of data generated from social media. Normally, various social computing related techniques include statistical approaches, graph based approaches and so forth. However, a human nature is present in the social networks. This implies that the social networks are human-like-full of imprecise relations and connections between individuals, vague terms, groups and individuals with indefinite descriptions and characteristics of interests [1]. In order to better cope with these burning issues, advances on soft computing technologies, such as fuzzy set, formal concept analysis and rough set theories, probabilistic computing, as well as neural network and system, are paving a road to more valuable and feasible solutions to the emerging social media and big data, finally bringing a brilliant future of wisdom and intelligent social media network. This survey will be carried out for SNA from following various aspects, i.e., network representation, reputation/position analysis of users, social relationships characterization, topological structure analysis, social data analysis.
This paper is structured as follows: "Social computing" section overviews the main stream soft computing techniques; Then, a comprehensive taxonomy and its soft computing techniques based SNA approaches are presented in "Soft computing" section. Finally, "When social computing meets soft computing" section concludes this paper by presenting general remarks regarding the current stage of the research and a brief analysis of future perspectives.
Social computing
This section will present the basic definition of social computing as well as the potential applications.
Definition of social computing
The terminology of social computing was firstly proposed in 1994. However, there are various definitions for social computing. Schuler [2] pointed out that social computing can be any type of computing application that uses software as a medium or focus of social relations. Therefore, his opinion emphasized the importance of social softwares. Dryer et al. [3] stated that social computing is the interplay between persons, social behaviors, and interactions with computing technologies, its design model focuses on the reciprocal interaction of the system design, human behavior, social contribution and interaction results in the mobile computing system. Wang et al. [4, 5] provided the definition of social computing in the narrow/broad sense. Broadly speaking, social computing refers to the computational theory and method for social sciences. Narrowly speaking, social computing is a computational theory and method for social activities, social processes, social structures, social organizations and their functions and effects.
Figure
1
shows an architecture of social computing. The bottom level of this architecture illustrates that the real-life world is composed of physical world, mental world as well as artificial world. From practical point of view, it is easy to obtain a recognition that the social physics, social psychology and social computing are the certain products of the three worlds, respectively, and there is a significant overlap between them. Importantly, this recognition enables us to make full use of the model of artificial society, and use computers as experimental means under parallel system to check and demonstrate the hypothesis of social computing in the artificial world.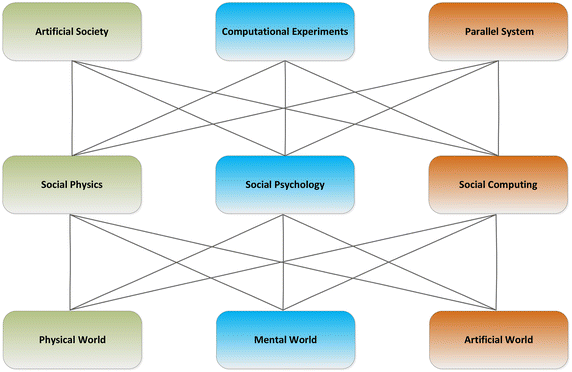 Research fields of social computing
Social computing is not only a technique but also a social phenomena. Basically, social computing has two main research trends: (1) social science-oriented social computing; (2) application-oriented social computing. And, these two research trends influence each other.
Social science-oriented social computing
Social science-oriented social computing is composed of social networks analysis and computational social science. First, social network analysis mainly covers the topics on social flows, healthcare, key nodes mining for disease dissemination, communities detection and so forth. The approaches about social network analysis are mainly categorized as: agent-based model, theoretical physics approach, and graph theory. Milgram et al. [6] and Watts et al. [7] pioneered the research on small-world. Based on their work, Barabasi et al. [8] found the connection between nodes followed the power-law distribution. In addition, there are other significant research achievements, such as strong and weak ties [9], structural holes [10], and information cascades [11], etc. Second, computational social science is a cross-discipline among systems science, control science, and complex science. It mainly focuses on the research on social simulation and social system modeling by using equation based modeling and computational modeling [12]. Technically, data mining as a key technology for computational social science, is to discover the interesting and useful patterns from massive data by using machine learning approaches.
Application-oriented social computing
Application-oriented social computing refers to a type of particular application which incorporating the methodologies and technologies about social computing, such as communities, social network, social phycology. Application-oriented social computing experienced three phases: group software, social software and social media [13]. Group software was proposed in 1970s, and it was used in many research institutes. The essence of group software is a collaborative technology with the aim of supporting the interactions collaboratively. For example, computer supported cooperative work and computer supported collaborative learning are two classic group software applications. In 2005, as the rapid development of Web 2.0 [14], social media is emerging. Social media emphasizes the active interaction from users, users can complete the social interactions by generating, consuming the contents over the social media. Recently, the wide usage of ubiquitous devices, such as mobile phones and smart devices, the mobile social media [15–17] attracts much attention from academia and industry.
Soft computing
Soft computing is defined as a collection of techniques spanning many fields that fall under various categories in computational intelligence [
18
]. Soft computing is a consortium of methodologies which work with real life problems and provides in one form or another flexible information processing capabilities for handling real-life and complex situations [
19
]. The guiding principle of soft computing is to explore the tolerance for imprecision, uncertainty and partial truth to achieve tractability, robustness and low solution cost that are not handled with conventional hard computing. Initially, soft computing is composed of three main branches: fuzzy systems [
20
,
21
], evolutionary computation [
22
,
23
], artificial neural computing [
24
]. Up to now, many new methods or techniques have been proposed for imprecision, uncertainty and partial truth, which are belong to soft computing. This paper makes a survey with the following soft computing techniques (as shown in Fig.
2
) including fuzzy logic, formal concept analysis, rough sets analysis, and soft sets. The remainder of this section gives you the overview of these techniques.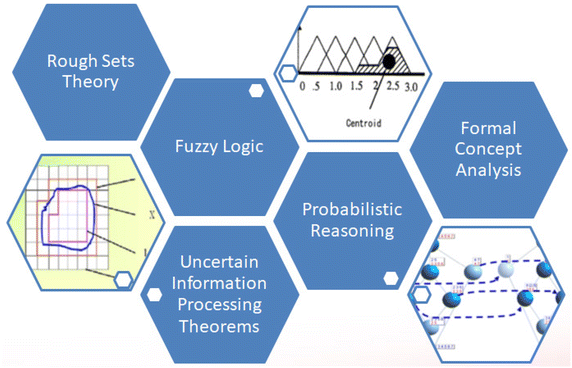 When social computing meets soft computing
When social computing meets soft computing, what opportunities can it bring to researchers from both communities of soft computing and social computing. Figure
3
illustrates a category of study on social networks analysis from a soft computing perspective. The survey on soft computing techniques based social networks analysis will be elaborated with the three main aspects: (1) structural analysis; (2) social data analysis; (3) social interaction analysis.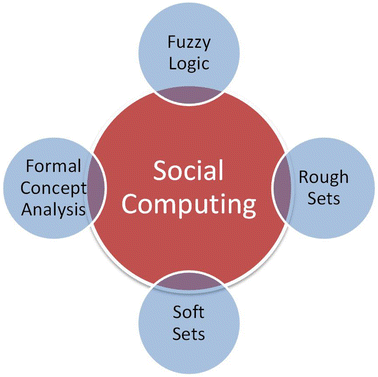 The rest of this section will provide the comprehensive survey on soft computing techniques (FL, FCA, RST) based social networks analysis from the aspects of structural analysis, social data analysis and social interaction analysis.
Relevant softwares for social computing
This section lists the softwares for social network analysis [87–90]. Then, several specific softwares for social network analysis based on soft computing are presented as well.
Table
1
summarizes the commonly-used general software packages and specialized software packages for social networks analysis.
Table 1
Software packages for social network analysis
No

General software packages

Specialized software packages

Type

Academic/free

Academic/free

1

Agna

Applied graph and network analysis

Blanche

Network dynamics

2

DyNet (SE and LS) [91]

Data-driven visualizations

CID-ABM

Competing idea diffusion agent based model

3

GUESS

The graph exploration system

CFinder [92]

Finding and visualizing dense groups

4

Pajek [93]

Program for large network analysis

Commetrix [94]

Dynamic network visualization and analysis

5

NodeXL [95]: viewing and analyzing network graphs

PGRAPH [96]: Kinship networks

6

igraph (R, Python, C) [97]

Creating and manipulating graphs

SONIVIS

Analyzing and visualizing virtual information space

7

NetVis [98]: dynamic visualization of social networks

E-Net [99]: Ego-NETwork analysis

8

ORA [100]: dynamic network analysis

EgoNet [101]: egocentric networks

9

SocNetV: social networks visualiser

KeyPlayer [102]: identifying nodes

10

UCINET 6 [103]

Comprehensive social network analysis software

KliqFinder: cohesive subgroups

11

visone: analyis and visualization of social networks

Network genie: network surveys

12

JUNG (Java): Java Universal Network/graph framework

PNet: exponential random graph models (ERGMs)

13

libSNA (Python)

Open-source library for social network analysis

SONIVIS

Analyzing and visualizing virtual information spaces

14

NetworkX (Python) [104]: package for complex networks

StOCNET [105]: statistical analysis
In addition, this paper also lists the main visualization softwares for social networks, as shown in Table
2
.
Table 2
Visualization softwares for social networks analysis
| No | Software name | Descriptions |
| --- | --- | --- |
| 1 | aiSee [106] | Graph visualization |
| 2 | Apache Agora [107] | Visualizing virtual communities |
| 3 | Cytoscape [108] | Visualizing molecular interaction networks |
| 4 | Gephi [109] | Visualization and exploration platform |
| 5 | Graphviz [110] | Graph visualization |
| 6 | KrackPlot [111] | Social network visualization program |
To the best of our knowledge, the specific softwares for soft computing-based social network analysis are not available. However, we can adopt the soft computing softwares or tools for assisting the social network analysis. For example, FCA-based social network analysis, an emerging approach social network analysis, is widely used. Particularly, we illustrate how to analyze the social network with an open platform for lattices-Galicia [
112
].
Context construction A given social network g, modeled as a graph as shown in Fig. 7. By using the construction approach [29], the formal contexts (as shown in Fig. 8) are easily obtained as follows.

Concept lattice building According to the formal concept lattice generation algorithm presented in [29], the formal concept lattices of the given graph g is shown in Fig. 9.

Social computing issues In this step, we can execute the topological structure mining and analysis based on the above extracted formal concepts. For example, our previous work [29] has proved that the equivalence relation between the equiconcepts and cliques. With this relation, we can extract the k-cliques, k-clique communities from social networks. Interestingly, the location-focused communities detection and evolutionary can be accomplished by observing the changing patterns of m-triadic concepts [113]. In field of graph matching, the formal concepts are regarded as the main features of the graphs for further evaluating the similarity between graphs [68].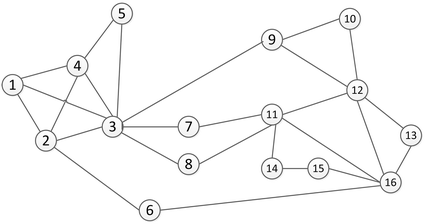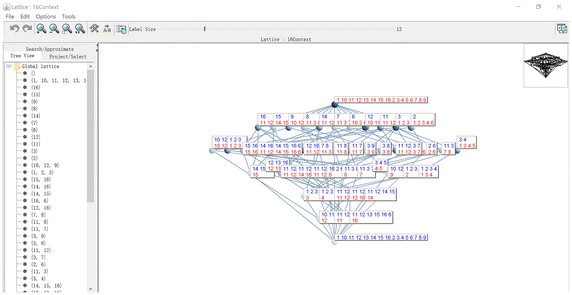 Conclusions
As the scale of social media and number of users are rapidly increasing, social network analysis (SNA) has become an important tool for experts and researchers in social computing. Specially, the necessary information is often distributed and hidden on social site servers, so there is an urgent demand for designing some new approaches for collection and analysis the social network. Soft computing methodologies like fuzzy sets, neural networks, genetic algorithms, rough sets, soft sets and their hybridizations, have recently been widely utilized to solve data mining problems. They strive to provide approximate solutions at low cost, thereby speeding up the process. In this paper, we firstly answered what happening when social computing meets soft computing. Then, we discussed the state-of-art on various soft computing techniques those are used for social networks analysis. It is believed that this paper can provide more insights for researchers from the both social computing and soft computing fields.
Footnotes
1
Equiconcepts refer to a type of special formal concepts where the extent equals to the intent.
Declarations
Authors' contributions
FH collected, reviewed and classified main literature for the paper, and also completed the writing of this work. DSP identified the insights of this work, especially the soft computing based social computing techniques in ubiquitous healthcare. ZP improved the part of soft computing techniques survey and presentation. All authors read and approved the final manuscript.
Acknowledgements
This research was supported by the National Natural Science Foundation of China (Grant Nos. 61702317, 61372187) and MSIP (Ministry of Science, ICT and Future Planning), Korea, under the ITRC (Information Technology Research Center) support program (IITP-2017-2014-0-00720) supervised by the IITP (Institute for Information & Communications Technology Promotion) and the National Research Foundation of Korea (No. NRF-2017R1A2B1008421) and was also supported by the Fundamental Research Funds for the Central Universities (GK201703059, GK201802013), and Fund Program for the Scientific Activities of Selected Returned Overseas Professionals in Shaanxi Province (Grant No. 2017024).
Competing interests
The authors declare that they have no competing interests.
Ethics approval and consent to participate
Not applicable.
Publisher's Note
Springer Nature remains neutral with regard to jurisdictional claims in published maps and institutional affiliations.
Open AccessThis article is distributed under the terms of the Creative Commons Attribution 4.0 International License (http://creativecommons.org/licenses/by/4.0/), which permits unrestricted use, distribution, and reproduction in any medium, provided you give appropriate credit to the original author(s) and the source, provide a link to the Creative Commons license, and indicate if changes were made.
Authors' Affiliations
(1)
Key Laboratory of Modern Teaching Technology, Ministry of Education, Xi'an, China
(2)
School of Computer Science, Shaanxi Normal University, Xi'an, China
(3)
Department of Computer Software Engineering, Soonchunhyang University, Asan, South Korea
(4)
Center for Radio Administration & Technology Development, Xihua University, Chengdu, China